Welcome to Echo Point Books & Media
At Echo Point Books & Media we specialize in bringing the best titles of the past into the future.
OUR VISION REALIZED
After nearly a decade as one of the country's most successful online booksellers, 2010 saw Echo Point Books & Media, LLC enter a market under served by larger publishers: the republication of high quality out of print titles. We work like a traditional publisher save for three crucial differences: we pay higher royalty rates, we rarely publish previously unpublished work, and we specialize in breathing fresh life into titles that have a timeless appeal; books abandoned by their former publishers but which still resonate with contemporary audiences. After much trial and error, Echo Point learned the nuances of online publishing – subtle insights that make the difference between a book getting ignored and a book getting the attention and sales it deserves. With a catalog of over 450 titles and counting, we have established ourselves as one of the premier re-publishers in the U.S.
STYLE WHERE IT COUNTS
It's said that shouldn't judge a book by its cover. That's great advice when you meet someone new, but when it comes to books, covers really matter. Every book competes in a crowded and distracting marketplace. The packaging of your work is crucial to its success. A quality book deserves a high quality cover. With decades of experience and plenty of creative design talent, our accomplished production team skillfully transforms aging book covers into fresh, tasteful designs that appeal to new readers, while also remembering, when possible, to resonate with fans of a previous edition. Please look at some of our titles to see just how versatile our designers are—creating top selling art books as well books on animals, crafts, even military history. Artful covers matter, but so do sales; we keep both these crucial aspects of a book's design in mind when giving your book a new look.
PUBLISHING THAT WORKS FOR YOU
Founded by an author with an out of print book (originally published by Ballantine Books/Random House), our author-centered model offers a painless easy-to-understand contract, individual attention throughout the publishing process, fast production, and higher royalty rates than traditional publishers. We will make republishing your book an easy and enjoyable venture and turn your work back into a productive and high quality asset. You and your work will get the professional attention you and it deserves.
GLOBAL REACH
Through our partnership with Ingram Content Group, the industry leading book distributor, Echo Point titles are available to retailers throughout the world, from the online giants to your favorite neighborhood bookstore. We also regularly fill orders from university bookstores.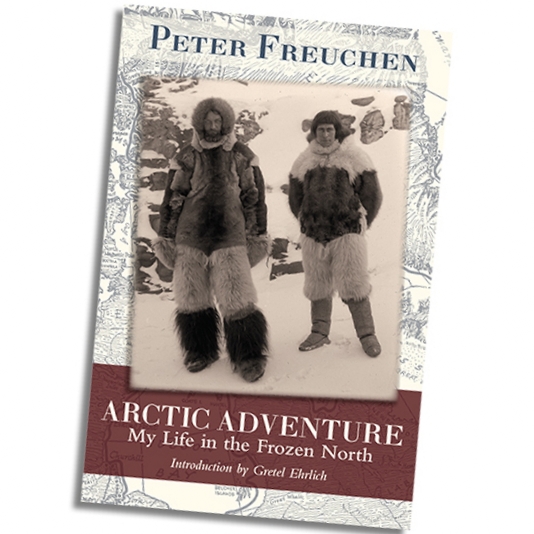 Larger than Life Adventures of Arctic Adventure Author Noted in The New Yorker